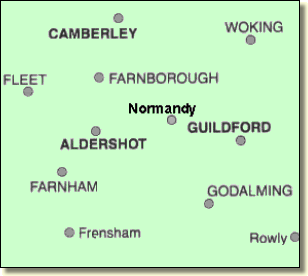 Exactly where the Deedmans of West Surrey originally came from is not known, but the earliest records presently found refer to the families that lived and worked in the villages of Pirbright Worplesdon and Normandy, just west of Guildford.
Many men from the family earned their living as sawyers - cutting trees to provide timber for building. This was a tough trade that required considerable skill and strength, for the method used was pit-sawing. Trees felled by specialist axemen were roughly shaped into huge logs for sawing. Each log was placed over a pit, about 8 feet deep by 4 feet wide and just a little longer than the standard length of logs to be cut. The ends of the log rested on cross-beams placed on the ground surface at each end of the pit. Two sawyers then went to work, one standing on top of the log, guiding the blade of a long, double-handed, crosscut saw through the wood. The man underneath the log in the pit (known as the "under dog") did the actual sawing by pulling down the saw-blade, becoming in the process covered in sawdust. The man on top (known as the "top dog") then lifted the blade up for the next downward sawing stroke. It was clearly better to be "top dog", rather than "under dog", and these terms provide us with the expressions so often used today. A little thought will reveal the immense difficulty of the job. Simply handling the huge timbers required great skill and the effort needed to work the saw all day would have been exhausting.
Although my brother Geoff and I have a large number of records, this collection of pages is still under development. Until a more substantial set is in place, your best source of information about the West Surrey Deedmans continues to be Judith White's site, accessible via the links button below.
Doug Deedman
| | | | |
| --- | --- | --- | --- |
| Explore main Deedman Tree | | Search for individual | |
| Go back to Doug's Home Page | | Links to other sites | |
---
Feedback to webmaster@harvestmouse.co.uk